• carpinteria • carpinteria bluffs • gouache • landscape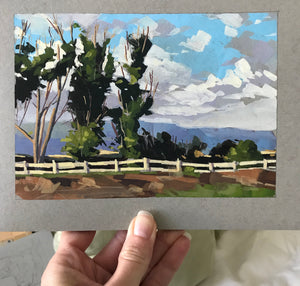 gouache on mixed media paper, 5x7 inches available here
---
• landscape • oil • psych • santa barbara • santa barbara courthouse • santa barbara courthouse painting
It's been at least a year since I've done a painting of the courthouse.  This commission was a welcome reminder of one of my favorite buildings, something about all that white is just so fun. 
Oil on panel, 8x10 inches
---
• beach • California • carpinteria • carpinteria bluffs • landscape • ocean • oil painting
I was really sad to not participate in the annual studio tour this weekend, but since most of my studio is packed in boxes waiting for our approaching move date I guess I didn't have much of a choice :) 
I'm really fond of how this little piece turned out.  It was one of those afternoons that was just perfectly warm and sunny, and the purple sunset shadows were just beginning to creep up.
Oil on...
---
• carpinteria bluffs • landscape • large painting
I'm finally making an effort to do larger paintings of all those small works I really loved.  This was definitely at the top of the list. 
Oil on 2" cradled panel, 10x30 inches 
(ps. I'm offering 10% off to local buyers who would be willing to arrange a studio pickup!) 
---
I was a little nervous about this one.  It's definitely a different type of landscape than I'm used to, but I'm really enjoying how it turned out. 
Oil on canvas panel, 12x12 inches